How to ACE Valentines day
Articles
Valentines day is only 2 days away and we bet you guys are starting to get nervous. No worries, we're here to help you ACE Valentines day this year! Surprise your loved one with a stack of these healthy pancakes, waffles and heart shaped churros. Guaranteed the best Valentines day breakfast EVER! 
Let's get going!
Healthy banana pancakes
Ingredients
2 medium bananas
1/2 cup almond milk (or milk of your choice)
2 eggs
1 cup flour (I use Organic Unbleached White All Purpose Flour)
1 tsp baking powder
1/2 tsp baking soda
Directions
Puree the bananas with a potato masher or fork.
Add the almond milk and eggs and whisk until smooth.
Add flour, baking powder and baking soda. Mix the batter gently and try not to over mix. A few lumps are fine. If the mixture looks too thin, add a little extra flour.
Heat up a non-stick skillet on medium heat. Using 1/4 cup as a measure, scoop the batter onto the skillet.
In about 1 minute you should see some bubbles appear. Flip the pancake over and fry for another minute. Repeat this step with the remaining batter. You should have 6 pancakes.
Garnish with fresh bananas and drizzle with maple syrup. Enjoy!
Almond Flour Waffles
Ingredients
1/2

 

cup

 

almond flour or almond meal

1/2

 

teaspoon

 

baking soda

1/8-1/4

 

teaspoon

 

cinnamon

 

depending on your taste

Pinch

 

of salt

2

 

eggs

1/8

 

cup

 

honey

1/2

 

teaspoon

 

vanilla extract

Non-stick spray or coconut oil
Directions
Mix all dry ingredients together in medium bowl. Whisk together the eggs, honey and vanilla extract and add to the dry mixture, stirring well.

Heat waffle maker and spray with non-stick spray. Drop about 1/4 cup of batter onto the hot iron. Cook until browned, about 4 minutes, then top with real maple syrup or yogurt with fruit.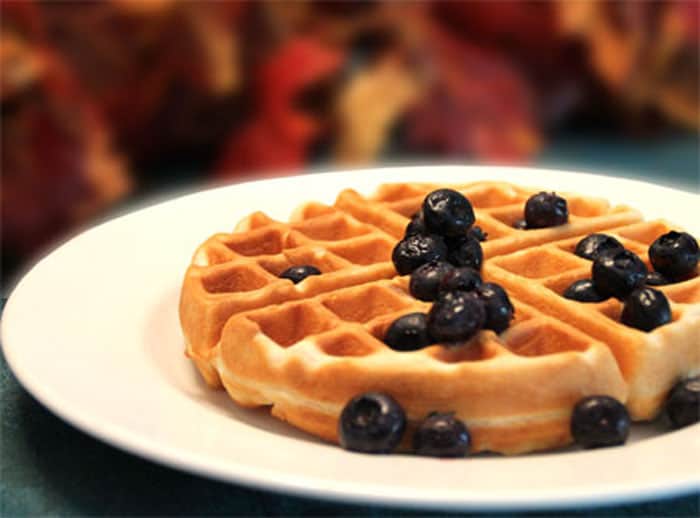 Heart shaped churros
Ingredients
3 slices of slightly stale bread
1 large egg
2 Tablespoon milk
A few drops of vanilla-optional
Dash of salt
2 Tablespoons butter for frying
2 Tablespoon brown sugar
¼ teaspoon cinnamon
Nuttela, chocolate or maple syrup for serving
Directions
Using a small heart shaped cookie cutter to cut out the hearts. Stale bread is recommended because it will soak up more egg mixture without falling apart. If the bread is not stale the hearts will lose their shape.
Beat the egg with milk, vanilla and salt, set aside.
Combine cinnamon and brown sugar and set aside.
In a pan over medium-high heat melt the butter, reduce the heat to medium-low.
Dip each heart in egg mixture to coat both sides, but don't let it soak too much liquid or they will lose their shape and shake off excess egg mixture.
Place the bread in the pan and fry about 45 seconds per side.
Transfer the hearts in cinnamon-brown sugar mixture to coat well and end serve immediately
NOTES: this is recipe per one serving.